We are now affiliated with the NRA!

Our Gun Club near Uniontown, PA
To join or register for upcoming events, use our online contact form or contact one of our officers.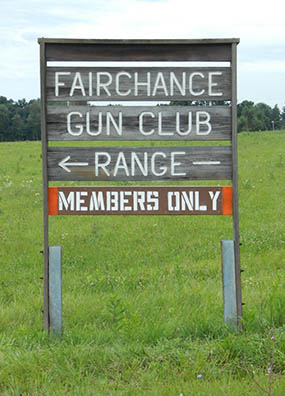 Fairchance Rod & Gun Club operates a shooting range and coordinates sport shooting events in Fayette County, PA. We are a membership-based club with an outdoor range and covered shooting areas.
Our Facilities Include
25 Yard Pistol Range
50 Yard Rifle Range
100 Yard Rifle Range
200 Yard Rifle Range
50 Covered Benches
Pavilion Loading and Cleaning Area
Electric and Water Hookups for Campers
Showers and Restrooms
We do have facility for Trap but no one to operate it. Therefore no shotguns are permitted to shoot at the provided target boards on the range.
How To Join
If you're interested in joining our Uniontown, PA area gun club, start by downloading our rules, by-laws, and membership application. Then use our online contact form or contact one of our officers to start the process of joining our gun club!
Events Calendar
We have plenty of events coming up this year, including competitions and gun training programs. Go to our downloads page for the latest events calendar.
Got Questions?
Feel free to contact us with any questions you may have by simply using our online contact form.